Start for free or go PRO with a custom .link domain
* .link for 1 year free. Renew for 12$ every next year
Trusted by over 3000 creators around the world
"I love the service so far. It is quick and looks good."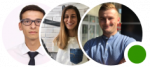 For any additional questions fee free to contact us.
Link in bio page is a social site that brings together all the important links a person or brand has in one microsite. Each user gets his unique URL that they usually use in their social media profile bio's (like the Instagram bio) to add the link so followers can access all the links to their digital activities.
The promo bundle includes the following: 
Free .link domain for the first year
Free link-in-bio page builder
Free SSL certificate
The price for the bundle is $0 for the first year, and $12 for every next year.
Not in the bundle offer. The social media integrations with TikTok and Instagram are avaialble in the higher plans. But no worries, you can easily upgrade to a PRO plan inside your account. For any further assistance feel free to chat with us: contact@embedsocial.com
Yes, you can contact our team to get detailed instructions on how to transfer your domain. Email to request support contact@embedsocial.com
As many as you need. We don't have hard coded limits. Unlimited!
Yes, we provide live chat and email support, and if needed, we can do live demonstrations to assist you.