Why we built the Social media newsletter?
At Feedlink we firmly believe in the power of social media and its potential to reach people, connect with them and engage on a deeper level. We were looking for ways to make this easier and more efficient for businesses, especially small ones that don't have big teams or budgets.
Building email lists is a great source of maintaining and engaging a community. And having an email newsletter that builds by itself by reusing your content is a great way to save time and money.
That's why we created the Social media newsletter.
Social Media Newsletter Benefits
No learning curve – you will not need to learn another emailing tool. No coding, no editing, just set it and forget it.
Never forget to send a newsletter – automated weekly updates from Facebook and TikTok; there is no need to set up and send the newsletter manually.
Save tons of time – by re-using existing posts without the need to adopt content for email too.
No additional costs – it is included in your Feedlink plan, so you don't need to pay for a newsletter tool.
Social Media Newsletter Features
Here are the main capabilities of Feedlink's social media newsletter:
Automatically populates the newsletter with your latest Instagram and TikTok posts.
Sends the newsletter on a weekly, bi-weekly, or monthly basis.
If you have links in your caption or tag them on the Feedlink page, it will create clickable links automatically for each post in the newsletter.
Re-uses posts from TikTok and Instagram in your newsletter automatically.
Aggregate TikTok and Instagram posts in a newsletter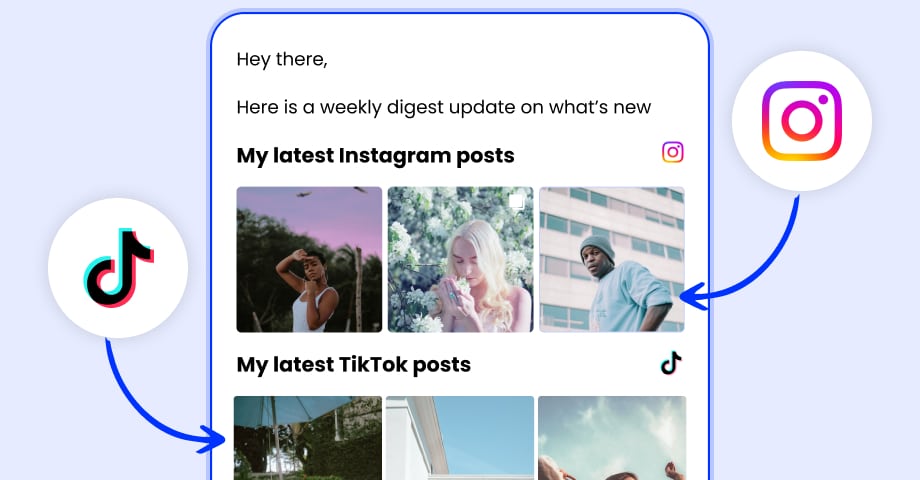 This new tool simplifies the process of creating and sending newsletters to customers with your latest social media posts, making it effortless and automatic. All you need to do is connect your Instagram or TikTok account and configure a few settings, and the newsletter will be sent each week automatically – no manual setup required.
Build an email list with a subscription block​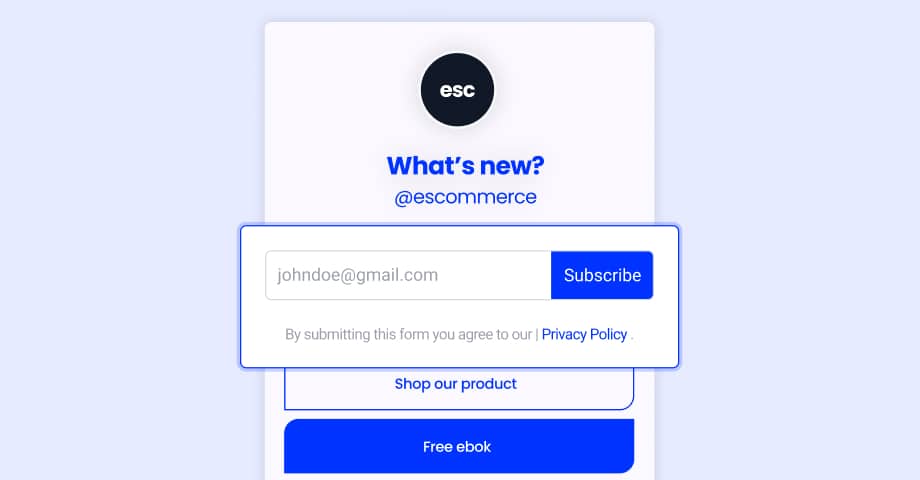 Feedlink has a built-in email subscription block that helps you natively build a subscriber list. It is fully customizable, and you can change colors or positions on your page. Once you start receiving the subscribers, they will appear in the Subscribers tab in your Feedlink editor. And once you have
Link photos in the newsletter to external links automatically.
Moreover, Feedlink's Social media Newsletters have a special feature – link support. If you add a link to the caption of your post or tag it on your Feedlink page, these links will also be automatically included in the newsletter. This way, you can drive traffic from your posts directly to your website or other online services like e-commerce shops or booking sites.
Setup Social Media Newsletter
With Feedlink's Social media Newsletters, you can easily share your content with friends and subscribers in an automated way. This means that you don't have to set up the newsletter each week or update it manually – we do all the hard work for you. All you need to do is activate it, which will aggregate all new posts of the coming week and send them on autopilot.
Here are the steps to set up the newsletter:
Step 1: In the Feedlink page editor, click the Newsletter tab
Step 2: Click 'Create newsletter'
Step 3: Write an email subject line and click 'Set live'
Visit the Help Center for a more detailed setup guide.
Key Takeaway
Feedlink's social media newsletter is the first of its kind. It contains your latest posts on Instagram and TikTok, making it even more interesting for users as they can read up on the latest content from their favorite social accounts at a place where all those platforms have been aggregated.
No matter the size of your business, our newsletter automation tool is perfect for you. So don't wait any longer; check out our product today and build a strong digital presence in just minutes.
Try now Feedlink's Social media Newsletters and reach new audiences with ease!
Try Feedlink
The most complete
link-in-bio tool you